Promotions
Поръчай пица "½ + ½ " и може да я спечелиш безплатна!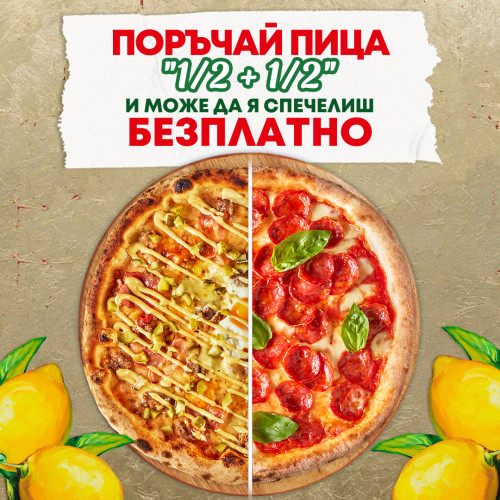 ПЕРИОД НА ИГРАТА
Играта започва на 28.11.2023г. и продължава до 11.12.2023г.
НАГРАДИ
- Организаторът предоставя следните награди в Играта:
150 бр. пица "½ + ½" от категория "Пици" в менюто, с ед. стойност между 12,98 лв. и 16,99 лв. с ДДС
- С една поръчка, отговаряща на условията в раздел VI може да бъде спечелена само една награда.
- НЕ се допуска размяна на награда срещу нейния паричен еквивалент.
- Наградите НЕ могат да бъдат избирани предварително от клиента.
- Подаръка е активен за текуща поръчка!

МЕХАНИЗЪМ НА ИГРАТА
- Всеки, регистрирал поръчка чрез сайта https://dostavka.happy.bg или чрез мобилното приложение, в периода на играта, участва за 1 (една) от 150 безплатни пици "½ + ½" за текуща поръчка.
- След като желаната пица е добавена в количката, клиента трябва да добави данните си за доставка - стъпка 2 (потвърждение) за завършване на поръчката. След потвърждаване на данните, клиента разбира дали печели с POP - UP банер.
*Ако клиентът не печели, банер НЕ се явява!
- В случай, че поръчката не е завършена, наградата е активна до 2 часа след известието за спечелена награда. След изтичане на активния период от 2 часа, наградата не може да бъде използвана.
- Сумата от спечелената безплатна пица автоматично се приспада от общата сума на поръчката.
- Общата стойност на една поръчка не може да бъде по-ниска от 14,00 (четиринадесет) лева с ДДС (без включена цената за доставка и консумативи).
- Играта е активна за поръчки, направени от ресторанти Burrata в гр. София и гр. Варна.
Game terms and conditions »
Pickup
Pickup save 10%
1. Choose a restaurant
2. Make your order
3. Come and take your order with 10% discount
*Articles marked with * are not subject to a discount.